CONVEYANCING
Housing prices increase in 2019
The price of housing in Spain marks a rise of 1.1% during the first quarter of 2019. This rise leaves the square meter at €1,703 according to the latest price index. Considering the annual variation, the increase is 6%.
The price of housing in Comunitat Valenciana (Alicante, Valencia y Castellón) in the first quarter of 2019 stood at € 1,077 / m², which represents an annual increase of 6.4%. So far this year, housing has been revalued by 1.1% compared to the end of the previous year. In 2018, the data accumulated at this point of the year reflected an increase of 2.4%.
The average value in Comunitat Valenciana reached its historical maximum in the third quarter of 2007. Since then, the price of housing in Comunitat Valenciana has experienced an accumulated adjustment of 43%.
Although house prices are rising, the lowest prices of housing* in all Spain are located in Alicante:
Elda: € 514.1 / m2
Villena: € 541.9 / m2
Petrer: € 565.2 / m2
*(cities with more than 25,000 populations)
Elda and Petrer are only 38 kilometers away from Alicante (half an hour by car) and Villena is 58 kilometers away from Alicante (45 minutes by car), so they are becoming the favorite destinations of investor tourists.
Spanish housing bubble – property boom
In 2008, new constructions came virtually to a halt, but prices were initially relatively stable with sellers reluctant to offer large discounts. The national average price as of late 2008 was € 2,095 /m2. Actual sales over the July 2007-June 2008 period were down an average 25.3%. Coinciding with the financial crisis of 2007-2008, prices began to fall at the third trimester of 2008.
Fortunately, there's no doubt that the Spanish property market is in better health in 2019 than for more than a decade. The domestic market is up, both in terms of transaction numbers and prices. The purchase prices in 2019 are 33,7% lower than the maximum prices before the financial crisis (first trimester of 2008).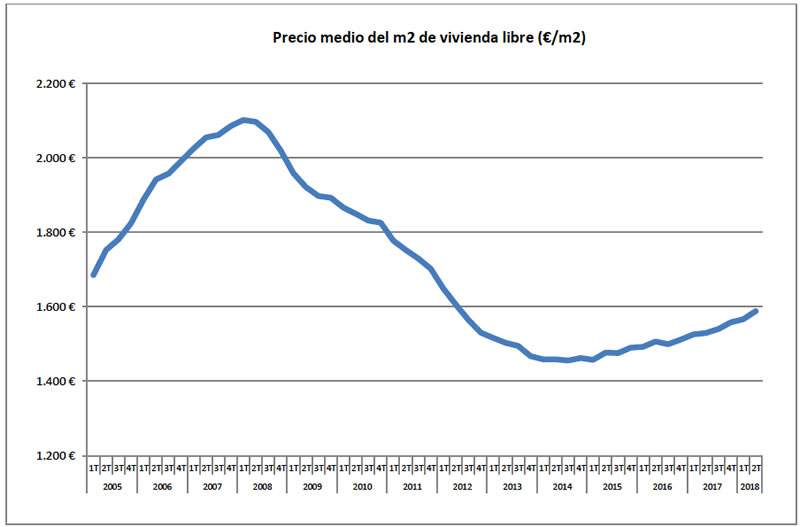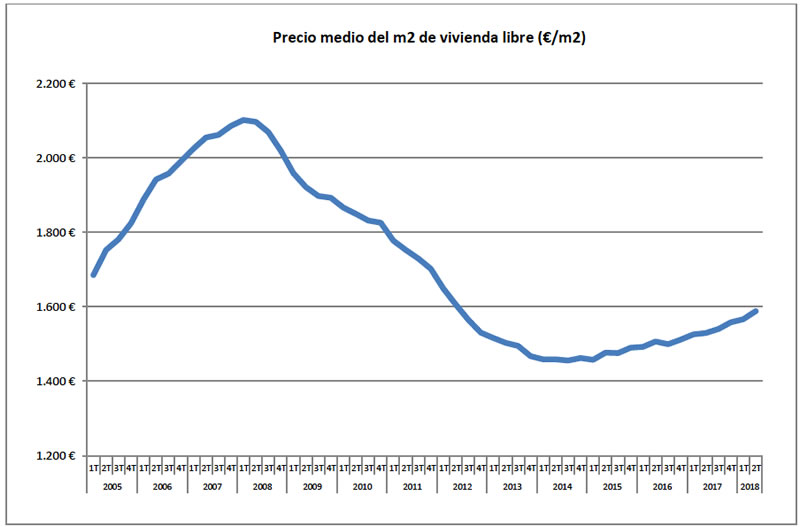 Why you should choose Spain
If you do not still think that we have give you enough reasons to buy in Spain, we will also told you that Spain is relaxed and easy-going, safe and child-friendly. Life expectancy rose by ten years between 1970 and 2015. At 80yrs for men and 85yrs for women Spaniards have the highest life expectancy in Europe and are second worldwide (Japan does better but only by a few months). The climate suits all tastes. It ranges from four seasons with a proper winter and lots of snow in the north to the sub-tropical south. The micro-climate zones on the Mediterranean coasts of Andalucía have the best winter temperatures on the European mainland. And not for nothing are The Canary Islands often referred to as Europe's Caribbean. Once again, Spain's beaches and marinas have more Blue Flags than any other country in the world, a total of 691. In fact, Spain has occupied the top spot ever since the scheme began in 1987.
For the cultural tourist Spain has some of the oldest cities in the world and 47 UNESCO World Heritage sites. This puts it in third place globally, behind Italy (54) and China (53). Within Spain, Andalucía is the region with the highest number (8) of recognised sites. The latest one to be awarded UNESCO status was Medina Azahara near Córdoba in 2018.
Living well is affordable with food and drink prices below the E.U. average according to Eurostat. Spanish cuisine is world-class. For the third year running Spain has three restaurants listed in the top ten restaurants in the world, more than any other country. And there's a total of seven in the top fifty. Sports and outdoor enthusiasts are spoilt for choice. Golf, tennis, equestrianism, skiing, wind & kitesurfing, mountain biking, rock-climbing, hiking, fishing – the list goes on and on.
The result is that Spain has a quality of life that's hard to beat.
Related articles:
If you want to know more about CONVEYANCING, please follow:
And, if you want more information about how to finance your property in Spain, please follow:
For legal advice about conveyancing in Spain, do not hesitate to contact Reuters solicitors.