Fears are growing about a Global Recession 2020. Coronavirus crisis could be the final push for the Economic Downturn of 2020.
WHAT RECESSION MEANS?
A downturn is a deceleration of the economy that leads to a reduction in spending and, consequently, a demand crisis.
As a consequence, there is an unemployment increase, interrupted commercial activities, and huge economic losses.
It is said that a Recession arises when there are two year quarters of negative economic growth.
There have been 3 historical recessions in the last century:

Crash of 1929 (also known as Great Depression)

Crash of 1987 (also known as Black Monday)
Crash of 2008
Generally speaking, in the three cases, the US Treasury Bond Yield Curve, which is an Economic Indicator, was inverted. The inversions were the precedent for the three crisis. In March 2020, the US Yield Curve has been inverted, which may be the signal for a new Crash during 2020.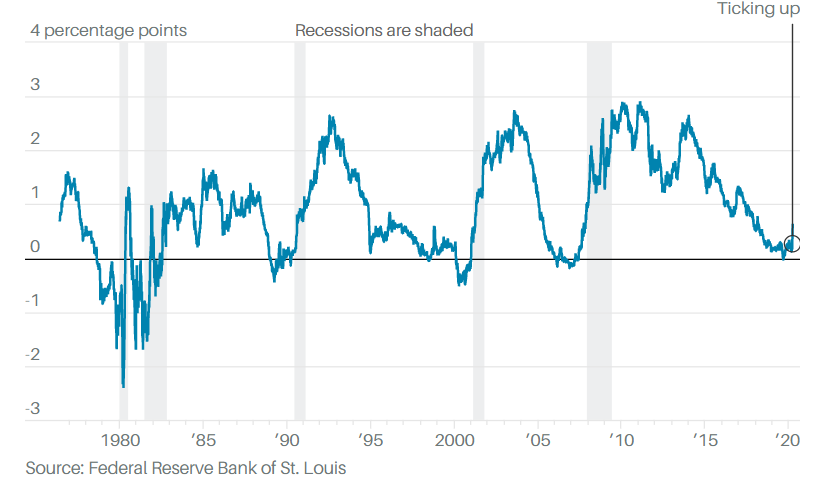 For more information, please click here and here.
TOP ECONOMISTS SAY THAT "GLOBAL RECESSION IS ALREADY HERE".
In the words of prestigious economists:
"A global recession seems baked in a cake at this point with odds over 90 per cent."
"I feel like the 2008 financial crisis was just a dry run for this."
Kenneth Rogoff, professor of economics and public policy at Harvard University.
You can read more through: New York Times .
"It takes an average of around 19.4 months for the tourism sector to recover from epidemics, according to the World Travel and Tourism Council, longer even than the 11.5 months required to snap back from terrorist attacks".
"Forget the falling markets of 2008. The Covid-19 shock is more like the flu pandemic of 1918".
Aditya Khowala, fund Manager at Fidelity International.
You can read more through: Investment Week .
STOCK MARKETS HAVE REFLECTED THE ECONOMIC ALARM.
Although we cannot know when a recession will arise, there are some economic indicators which forecast the Crash of 2020:

The S&P 500 fell 12.5 percent, in its worst month since October 2008.
The VIX Index, also called "Fear Index" has increased in March 2020. This index has risen before each crash (crash 29, 87 and 2008) .
The DAX Index is also falling down.
The Down Jones has fallen over 13%. As a reference, the Down Jones felt 22.61% at The Black Monday.
Crude oil and gold have also felt down.
SHOULD WE SPEAK ABOUT A 2020 CRASH?
European Commission mention the Recession as the consequence of this situation and it predicts an impact at the GDP (Gross Domestic Product) of 1 or 2 points.
The OECD is speaking about a Recession and requests a Marshall Plan.
Goldman Sachs predicts an economic slowdown of 1.3%. And Morgan Stanley predicts an economic slowdown of 5.5%.
Deutsche bank says that GDP is estimated to fall 22,4%.
There is a popular quote which says that "When China sneezes, the world catches a cold".
China is the Second World Power and it represents the 17% GDP worldwide. It grows 7% each year but Coronavirus crisis has had a great impact on its economy. GDP in China has fallen 11% in the first quarter of 2020.
United States of America is not better than China. Morgan Stanley predicts a deficit of 15-20% at the GDP during 2020-2021.
Regarding United Kingdom, economists forecast a cut at the UK economy output by 15%.
You can read more through: The Guardian
WHAT IS THE SOLUTION FOR RECESSION?
The main solution for this big crisis will be the vaccine and drugs against the Coronavirus. As soon as the pandemic finishes, the economy will rise.
Governments are doing their best but it will take a long time to recover to the previous situation.
European Central Bank (ECB) has just established a public and private Debt Purchase Program with € 750 million. It is also going to rescue some European Countries.
And the United States Government has just approved a Rescue Program of 2.5 billion dollars in order to relieve the Coronavirus´s negative effects.
Moreover, there are those who say that it is more possible that the U.S. Federal Reserve System ends up buying bonds in order to rescue the economy.
At the time of writing this post, European Commission has proposed SURE (Support to mitigate Unemployment Risks in an Emergency) which is designed to help protect jobs and workers affected by the coronavirus pandemic. SURE will provide financial assistance, in the form of loans granted on favourable terms from the EU to Member States, of up to €100 billion in total.
HOW TO BE PREPARED FOR RECESSION 2020?
"We simply attempt to be fearful when others are greedy and to be greedy only when others are fearful."
Warren Buffett, founder of The Berkshire Hathaway.
We are in uncertain moments, but we want to give you some clues and rules which will help you to succeed during and after recession.
This is our Survival Guide for Crisis:
You should be proactive, self-sufficient and positive. The power of positive thinking.
Make a budget. The budget has to cover every cost or expense. You should compare it with your incomes and profits.
Calculate your net assets. Remember that everything can be sold, if needed.
Prepare an Emergency Fund. We recommend to save the equivalent of 6 months' costs and expenses.
It is very important to have immediate liquidity.
Try to increase your profits.
Try to reduce costs and expenses which are not essential (additional expenses). (i.e.: check which debts have a higher interest rate and try to pay them before other debts with lower interests).
Try to increase your profits, if possible.
Remember that all your loans, mortgages, credit cards, etc, can be re-negotiated with the lender. We recommend you contact the bank/s and negotiate the terms.
If you have a mortgaged holiday home in Spain, you should consider whether or not it is convenient to keep it.
Find attached more information about how to wipe out the problem of your mortgaged holiday home in Spain during times of crisis:
And do not forget some famous quotes from Warren Buffett:
"Rule No.1: Never lose money. Rule No.2: Never forget rule No.1"
"Price is what you pay, Value is what you get"
You can read more quotes through this link.
"Big opportunities in life have to be seized. We don't do very many things, but when we get the chance to do something that's right and big, we've got to do it. And even to do it in a small scale is just as big of a mistake almost as not doing it at all. I mean, you really got to grab them when they come. Because you're not going to get 500 great opportunities. (…)"
Warren Buffett.
More about Warren Buffett: here, here and here.
To sum up, we will like to say that after a recession there is always an economic recovery. Better times will come, do not forget it!
Economists believe that an economic expansion will emerge in 2021.
REUTERS SOLICITORS continue to work from home in order to do our bit to prevent the spread of Covid-19. We are concerned about the current circumstances and how difficult this can be for all of you. For this reason, we continue working, albeit with extreme care and caution.
Obviously, travelling to Spain is impossible at the moment, so if you need assistance in Spain, Reuters Solicitors are here to help get in touch.
Related articles