If you want to know everything about Criminal Record Certificate in Spain, this is the blog you should read:
HOW IS SAID CRIMINAL RECORD CERTIFICATE IN SPANISH?
Criminal Record Certificate is called "Certificado de Antecedentes penales" in Spanish.
WHAT IS A CRIMINAL RECORD CERTIFICATE?
It is a Certification issued by the Spanish Ministry of Justice, which certifies whether or not someone has cancelled his criminal offences in Spain.
The Certificate also says:
If there was an imprisonment.
If the judgement was fully completed
If there was a parole
The certificate is provided by the "CENTRAL CRIMINAL RECORDS REGISTRY (Registro Central de Penados) in Madrid.
WHO CAN ASK FOR A CRIMINAL RECORD CERTIFICATE IN SPAIN?
Everyone who has spent time in Spain (resident or non-resident) has the right to apply for a Criminal Record Certificate.
You should bear in mind that the Criminal Record Certificate is not valid for working with minors. In those cases, the applicant needs a "SEXUAL OFFENCE CERTIFICATE".
HOW DOES A CRIMINAL RECORD CERTIFICATE LOOK LIKE?
We include a picture of a Criminal Record Certificate for your knowledge: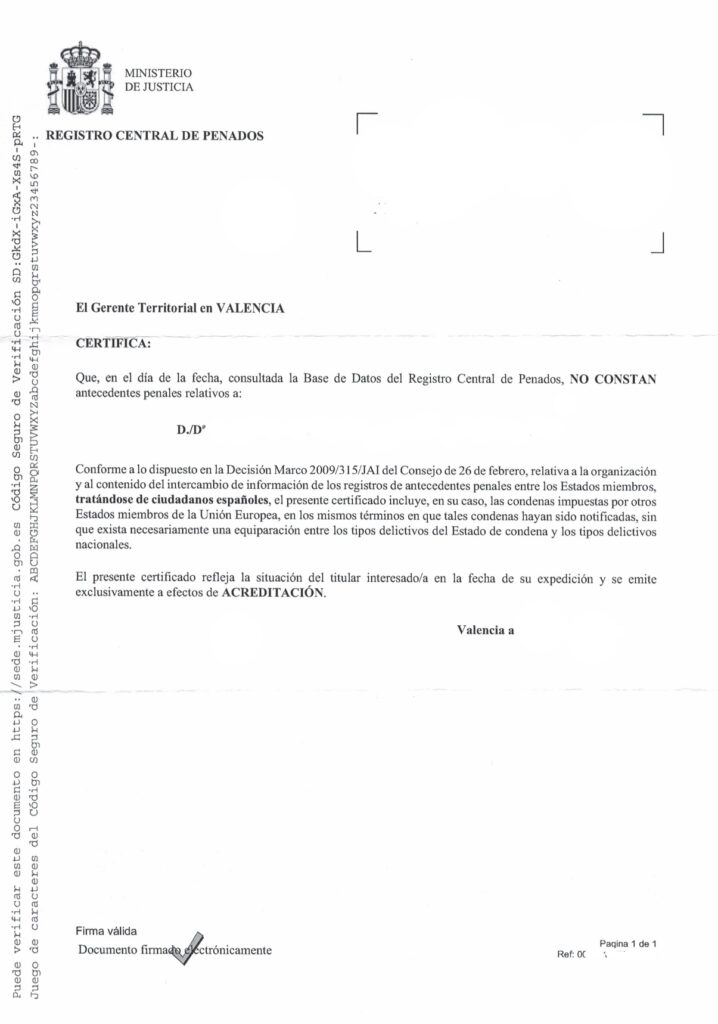 HOW CAN I APPLY FOR THE CRIMINAL RECORD CERTIFICATE IN SPAIN?
If you are leaving abroad, REUTERS SOLICITORS can assist you with your criminal record certificate.
REUTERS SOLICITORS will represent you, pay the tax on your behalf and submit the documentation to the "Oficina Central de Atención al Ciudadano del Ministerio de Justicia".
HOW LONG DOES A CRIMINAL CERTIFICATE RECORD TAKE TO GET IT?
It will take no longer than 10 days to obtain your certificate.
HOW CAN YOU CANCEL YOUR CRIMINAL RECORDS?
In case you have Criminal Records, we recommend you to cancel them.
It is important to cancel either criminal and police records (please, bear in mind that there are two different records)
There is some requirement that you need to follow:
1.- Comply the sentence and let the time required by law to pass. (depending on the crime, the time varies)
2.- Do not commit any other crime during this time.
3.- Pay the civil responsibility.
REUTERS SOLICITORS team will help you with your Criminal Record Certificate Application, as well as to cancel your criminal records in Spain.
If you want more information, do not hesitate to contact us.
RELATED ARTICLES: