WHAT IS AN APOSTILLE CERTIFICATE?
An Apostille is a certification provided under The Hague Convention of 1961 for authenticating documents for use in foreign countries.
Its only function is to certify the authenticity of the signature of a document.
WHEN CAN THE HAGUE APOSTILLE BE USED?
An apostille may be used only between states which are members of the Multilateral Hague Convention.
The list of states participating in this convention can be found at the bottom of this blog. 
A Hague Apostille in needed when:
The country where the document was issued is party to the Apostille Convention;
The country in which the document is to be used is party to the Apostille Convention;
The law of the country where the document was issued considers it to be a public document;
The country in which the document is to be used requires an Apostille in order to recognition it as a foreign public
NOTE: An Apostille may never be used for the recognition of a document in the country where that document was issued.  
An Apostille is only for the use of public documents abroad.
WHAT DOES THE APOSTILLE CERTIFICATE LOOK LIKE?
An apostille is placed directly on the document to be authenticated in the form of a 9×9 centimetre stamp and must always be titled "Apostille" (Hague Convention of 1961).
Generally, the authorities in the designated country will require a translation of the original. In this case, the translation must be certified instead of the original document. Depending on the type of document, you may need a translation from a sworn translator.
This is an example picture of an Apostille: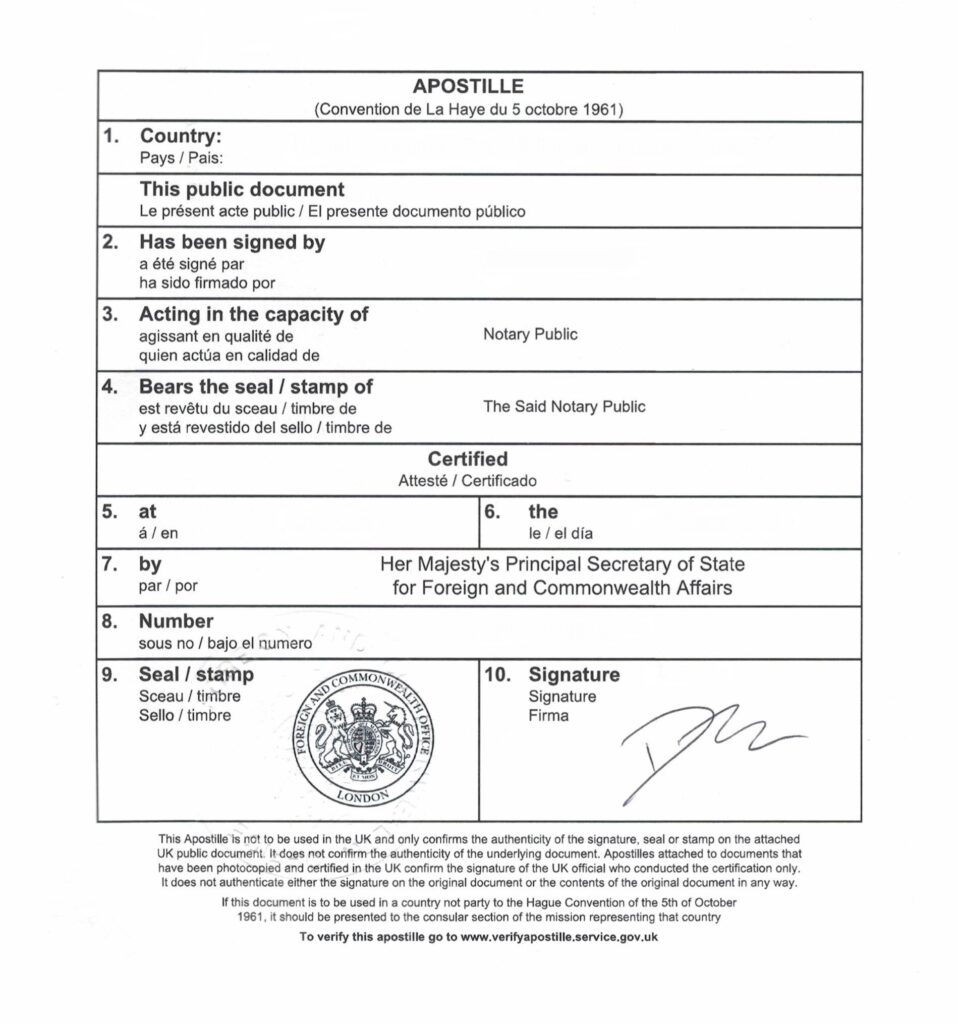 WHICH INFORMATION DOES THE APOSTILLE NEED?
As a legal document, an Apostille Certificate must follow a prescribed format with the following information:
1. Country of issue 
2. Who has signed the document 
3. The capacity in which the person signed the document 
4. Details of any seal on the document 
5. Place of issue 
6. Date of issue 
7. Issuing authority 
8. Apostille Certificate number 
9. Stamp of issuing authority 
10. Signature of representative of issuing authority 
WHERE CAN I APPLY FOR AN APOSTILLE?
The application for an apostille must be made by the holder of the document in the document's country of issue. Each member state of The Hague Convention determines which authorities are responsible for issuing the apostille.
The fees for issuing the apostille also depend on the respective country.
HAGUE APOSTILLE COUNTRY LIST
These are the countries who have signed The Hague Convention:
A
Albania
Andorra
Antigua and Barbuda
Argentina
Armenia
Australia
Austria
Azerbaijan
L
Latvia
Lesotho
Liberia
Liechtenstein
Lithuania
Luxembourg
B
Bahamas
Bahrain
Barbados
Belarus
Belgium
Belize
Bolivia
Bosnia and Herzegovina
Botswana
Brazil
Brunei Darussalam
Bulgaria
Burundi
M
Macao (China)
Macedonia (FYR of)
Malawi
Malta
Marshall Islands
Mauritius
Mexico
Monaco
Mongolia
Montenegro
Morocco

C
Cape Verde
Chile
China (Hong Kong)
China (Macao)
Colombia
Cook Islands
Costa Rica
Croatia
Cyprus
Czech Republic
N
Namibia
Netherlands
New Zealand
Nicaragua
Niue
Norway
D
Denmark
Dominica
Dominican Republic
O
Oman
E
Ecuador
El Salvador
Estonia
P
Panama
Paraguay
Peru
The Philippines
Poland
Portugal
F
Fiji
Finland
France
R
Republic of Moldova
Romania
Russian Federation
G
Georgia
Germany
Greece
Grenada
Guatemala
S
Saint Kitts and Nevis
Saint Lucia
Saint Vincent and the Grenadines
Samoa
San Marino
Sao Tome and Principe
Serbia
Seychelles
Slovakia
Slovenia
South Africa
Spain
Suriname
Swaziland
Sweden
Switzerland
H
Honduras
Hong Kong
Hungary
T
Tajikistan
The former Yugoslav Republic of Macedonia
Tonga
Trinidad and Tobago
Tunisia
Turkey
I
Iceland
India
Ireland
Israel
Italy
U
Ukraine
United Kingdom of Great Britain and Northern Ireland (UK)
Uruguay
United States of America (USA)
Uzbekistan
J
Japan
V
Vanuatu
Venezuela
K
Kazakhstan
Korea
Kosovo
Republic of Kyrgyzstan
Hague Apostille Country List