This guide explains what a NIE number is, the NIE application process and what you need to get your NIE number in Spain.
NIE number is the personal and unique tax identification number that is used to track all financial and legal activities in Spain. So, the Spanish NIE number acts as an identification and tax number, and is used in all fiscal transactions that involve the Tax Authorities Offices.
A NIE number is mandatory for all foreigners with financial, professional or social affairs in Spain, regardless of whether or not they are resident in Spain. Children also need a NIE number in order to get social security, among other things. European citizens typically need to apply for a NIE number after three months of residence in Spain, while non-EU citizens will typically receive their NIE application along with their Spanish residency. Official residents in Spain will also typically need to register at PADRÓN , which is the Spain's population register. However, the NIE will be also mandatory if you want to buy a property or a car, get connected utilities and pay taxes in Spain.
Reuters Solicitors provides a fixed fee service to obtain your NIE without you having to visit Spain.
What is the NIE number?
NIE is the abbreviation of "Número de Identificación de Extranjero", which is translated as the Foreigner's Identification Number (or NIE number).
As previously mentioned, the NIE is your all-purpose identification and tax number in Spain. You need it for everything that involves an official process in Spain
The NIE number is the legal number assigned by the Spanish National Police to foreign residents who don't have Spanish citizenship, so that they can carry out legal activities in Spain.
The actual format of the NIE number certificate is an A4 white sheet which contains your name, surname, date of birth, city and country of birth, and of course the unique NIE number.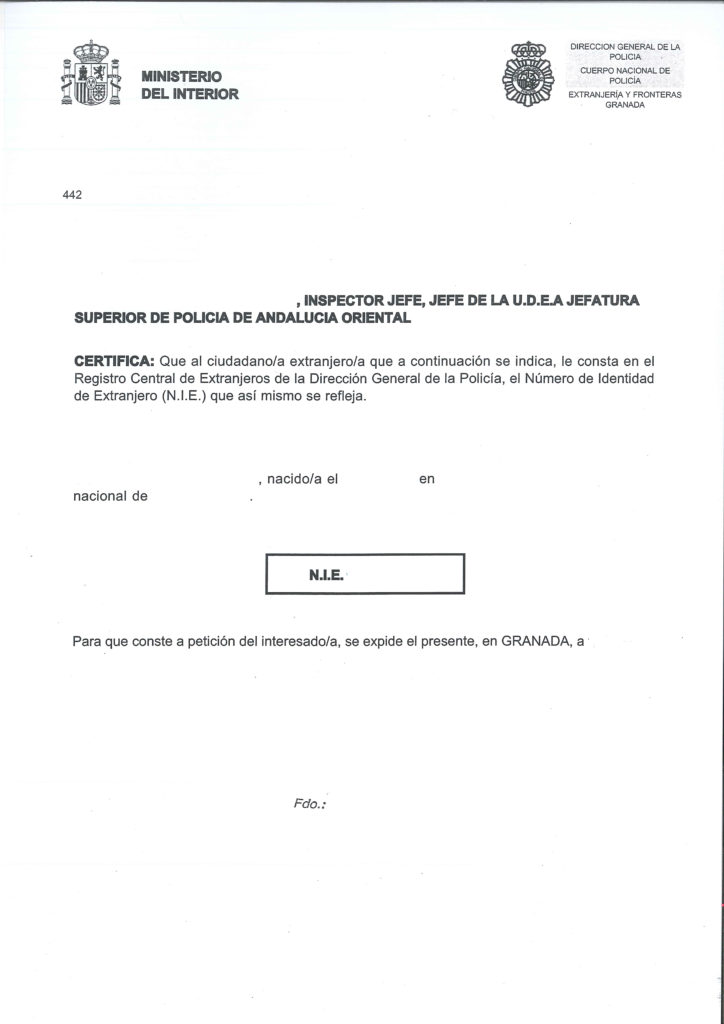 Who needs a NIE in Spain?
Any foreigner who becomes resident for tax purposes in Spain needs a NIE number in Spain.
Any non-resident foreigner who buys property in Spain. If a couple buys a property in Spain together, and they register the property in both their names, then both of them must obtain a NIE number in Spain.
Any foreigner who wants to work in Spain, or start a business in Spain.
If you are an EU citizen and spend longer than 3 months in Spain after getting your NIE number, you are required to register and get a government certificate that shows your NIE number.
You can read more about LEGAL RESIDENCY through this link:
Are NIEs issued for children?
It is possible for children under the age of 18 to be issued with a NIE number, for example for Social Security in Spain.
There is usually additional documentation required, such as a birth certificate with a certified translation.
Using your Spanish NIE number
The most common procedures for which you will need a Spanish NIE number are:
Open a bank account
Pay taxes in Spain
Be legally employed
Be self-employed
Register a business
Study in Spain
Get a driving licence in Spain
Arrange utilities
Spanish NIE certificate
NIE is applied at the Police Station Offices and it requires some documentation (which can vary from one office to another):
ALL APPLICANTS:

Form EX-15
Copy of the main page your passport (the page that includes your photo, name, passport number, address, ….) and original passport
Two passport sized photos
Pay tax Form 790 (€10 approximately)
NON-EU NATIONALS:

The copy of the passport must be of the entire passport (all pages). Some Police Offices might accept a valid entry stamp in your passport as proof of legal entry but we recommend to provide the copy of the passport in order to avoid problems.
Proof of your legal entry into Spain (for instance a landing card, known in Spanish as a "declaración de entrada" or "título de viaje" or "cédula de inscripción").
CHILDREN UNDER 18 YERS OLD: In addition to what it has been mentioned, children under 18 will also be required of:

Birth certificate (original document and a photocopy)
Parent´s passports (originals and photocopies)
If you are not able to travel to Spain, Reuters Solicitors can assist you with the NIE by signing a Power of Attorney to act on your behalf.
Reuters Solicitors will provide the draft Power of Attorney, expressly granting permission to request a NIE number on your behalf.
The Power of Attorney needs to be signed in front of a Notary and then legalised for use abroad by setting the Hague Apostille ("Apostilla de la Haya").
We assist you with locating a notary in your home country and arranging a convenient appointment time for you.
Is the application process simple?
It is mandatory to book an appointment to obtain NIEs in advance. Some areas of Spain are particularly affected with delays, so it can take even 3 months to obtain an appointment.
Reuters Solicitors is able to obtain NIE certificates on behalf of clients. This means that no travel to Spain is necessary.
We arrange NIE appointments in several locations in Spain. This ensures that we can obtain early appointments for our clients.
Your NIE card
The NIE number certificate described in this articles does not mean Spanish Residency . This requires separate documents and procedures, although the Spanish residency card (or A4 sheet) shows your NIE number.
Your NIE number is assigned permanently. Formerly, numbers were issued temporarily for three month periods in some regions, but this was stopped in 2016.
You won't be able to exchange your foreign driving licence in Spain you only have an NIE number. You'll have to have Spanish residency.
Take your NIE number certificate with you, along with your passport, if you need to make a police report.
What can I do if I have lost my NIE certificate?
If you have lost your NIE document, you can obtain another at a Police Office by following the process previously described above.
Alternatively, we can obtain one on your behalf.
The NIE number will be the same as on your original certificate.
I bought a house several years ago before NIEs were required. I am now selling. Do I need a NIE to do so?
The present system of NIEs was introduced at the end of 2004. You may not have a NIE number if you bought a property prior to this date.
You will need to obtain a NIE prior to selling your property.
If you want legal assistance in order to obtain your NIE NUMBER, do not hesitate to contact us.
Related articles: